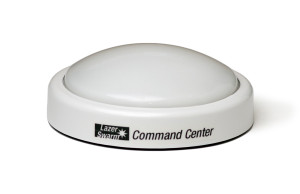 Lazer Swarm Command Center
$149.99
+ Tax and shipping (for some locations)
We are not accepting new orders at this time. Please check back later.
The Lazer Swarm Command Center is a device that allows hosting Lazer Tag Team Ops (LTTO) games from a Windows computer.
The Command Center connects to the computer over USB and uses six high powered IR emitters and two IR receivers. It is compatible with all five models of Lazer Tag Team Ops taggers (Deluxe, IRT-2X Drone, Tag Master Blaster, Phoenix LTX, and LTAR).
The Command Center supports nearly all of the game modes supported by the taggers including the hidden modes of the Drone and Tag Master Blaster taggers. You can create and save lists of player names and assign them to taggers that have joined. You can create and save rule presets with your preferred game settings (game length, number of reloads, number of tags, etc).
At the end of the game, a scoreboard is shown with the team ranks, player ranks and scores, and a grid of how many times each player tagged each other player. The scoreboard shows players names so it's easy to see who tagged whom and how many times they tagged them. The scoreboard can be shown in a window or full screen on a second monitor.
One year warranty and support provided.
This product is built by hand in small batches. Assembly time and availability of parts may delay shipment by as long as a month. For an estimate of current lead time, please send us an e-mail.
System Requirements:
A computer running Windows 7, 8.1, or 10
.NET Framework 4.0
An available USB 2.0 port
Four AA batteries (included)
2–24 Lazer Tag Team Ops taggers
Included in the Box:
Lazer Swarm Command Center
6ft (1.82m) USB A to Micro USB B cable
Four AA batteries